Relaxation in Binz on the island of Rügen
Charming service in the Baltic Sea Resort Binz
Our apartment resort offers an ideal setting for individual, relaxing and comfortable holidays.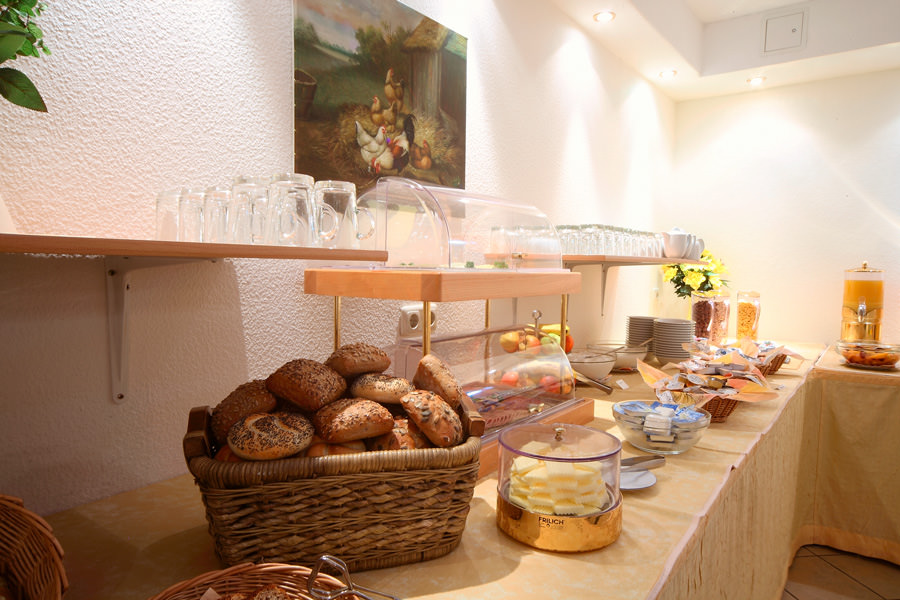 Substantial breakfast buffet
Start your day delightfully and relaxed. Our substantial breakfast buffet offers you a large choice in various fresh rolls, bread, crisp bread through to selected types of cheese and cold cuts, a variety of jam, honey, plum puree and chocolate spread, Rügen cream cheese, meat salad and camembert as well as curd, fruit- and natural yoghurt, fresh milk, juice and a selection of cornflakes and cereals, boiled or scrambled eggs up to fresh seasonal fruits and vegetables. Enjoy finest coffee or choose between various types of tea.
(9,80 EUR per person per day; children between 4 and 11 years of age pay only 4.90 EUR per person per day – please reserve in advance)
Delivery service for fresh rolls
Instead of choosing our breakfast buffet, you can also decide to receive fresh rolls at your apartment. Order the rolls the day before and find them at your door at 8.00 am (from 0.40 EUR per roll on)
Additional services
Our employees are polite, obliging and meet almost any desire of our guests.
Sauna by Klafs
Billiard (0.50 EUR coin per match)
Table football (0.50 EUR coin per match)
Playroom for younger guests
Lounge
Trip advice
Ticket service (e.g. for the Störtebeker Festival or the Naturerbezentrum Rügen/Prora)
Free WiFi
Bicycle rental
Port-a-crib for a one-off payment of 10.00 EUR upon request
Special conditions for Strandkörbe (traditional Baltic beach chairs)